Last Night: Beirut at the Grand
Beirut
The Grand
May 28, 2008
By Jennifer Maerz
Better than: Watching Beirut's Take-Away shows
Having 12 people in your band is the new getting rid of the bassist. Whereas it seemed the White Stripes put the duo in full view a couple years back (followed by the Kills, the Raveonettes, etc.) acts like the Polyphonic Spree, Arcade Fire, and Dark Meat act like any band that fits in a single tour bus is simply too subdued – grand emotions are best expressed through grand lineups.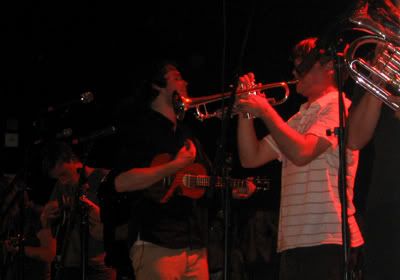 Last night, Beirut's opening acts, Santa Fe's The Apple Miner Colony and Auckland, New Zealand's the Brunettes, each performed with a stage full of people (The Apple Miners numbered around 25 musicians, and although they claimed to be in college, most of their membership looked young enough to still play in a high school marching band.). With both bands, though, most of their extra musicians went underused, all that excess of instrumentation being used to create songs that just sounded like regular old indie pop. From the moment Beirut launched into "Nantes," however, it was clear that we were in for a very different sort of show now, one that made full use of all those extra per diems. Because even though band leader Zach Condon had a relatively conservative eight or so players surrounding him, the musical prodigy knows how to coax the maximum sonic benefits from everyone.
Standing at the front of the stage wearing a black shirt and a simple wedding ring, 22 year old Condon played conductor to a band that spent the next two hours using its various components (guitars, mandolin, ukuleles, percussion, bass, accordion, violin, trumpet, and flugelhorn) to take us on a flying carpet ride around the world. Condon led his troops through music influenced by the Balkan brass bands, French ballads, joyous indie rock and melancholy Mexican funeral songs. His band was loud and confident, filling the room up to the Grand's tall ceilings and high balconies with uproarious clap-along anthems and quieter tracks pared down to just the strings and mandolins.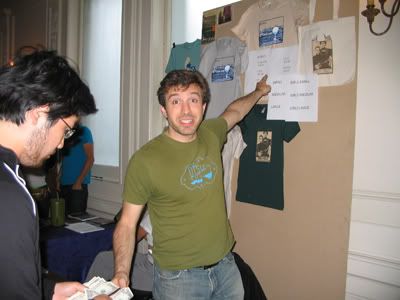 The crowd – which included comedian Aziz Ansari, on a break from his Flight of the Conchords shows -- swayed, waltzed, and blew rounds of bubbles through songs off Gulag Orchestra and The Flying Cup Club. And it's funny, I kept hearing people around me say things to their friends like, "I'm so happy right now," or "This show is so amazing." Instead of feeling over the top, their gushing was just about right for music this expressive. Condon himself was a theatrical presence, waiving a hand in front of him like Paul Dano as the preacher in There Will Be Blood. These were purposeful gestures, extending the cinematic nature of Beirut records into the very focused performance from the stage.
Beirut played a long set, but the energy never sapped. Especially great were bits of new material from Condon's repertoire -- Mexican influenced songs that he went to Oaxaca to record with local musicians.
When the night was approaching its close, the crowd didn't want Beirut to leave. They whistled, clapped, and stomped through three encores – the last one being especially magical. Condon ended the second encore with a cover of "Siki Siki Baba"; but when he left the stage, the audience picked up the song, engaging in a full bore a cappella chorus of the ooh ya da do do do until Beirut came back for their last victory lap. And after last night's show, it's pretty clear that for Condon and his motley crew there are many more victory laps on the horizon.