Photos: The New Eateries at the California Academy of Sciences
By Meredith Brody
Press previews are inherently different from the actual experience of dining, but our first glimpse (and taste) of what Charles Phan (The Slanted Door) and Loretta Keller (Coco 500) have on offer in the new eateries at the California Academy of Sciences, at least in the upstairs Academy Café, came during one such tour of the facility. (We took some pictures of the fancy downstairs Moss Room, but didn't see or sample any of its menu.)

The Academy Café (open daily during museum hours; admission to museum necessary for entry) dishes out its multicultural menu cafeteria-style, at a number of counter stations, including Soup, Sandwiches, Slow-Cooked, Noodles, Sizzle, Taco Man, Bar, Bakery, Steamed, Rolls, and Salad.
Lining up for different items might make assembling a meal for a group somewhat complicated, not to say daunting. The space is industrial chic, and features bright-orange Eamesian chairs and metal-topped tables against bright white walls.
There's an aquarium along one wall.
The space opens out on a delightful patio with garden views, which is the place to eat on dulcet days, as far as we're concerned.
We sampled a number of dishes, including Asian noodles:
tacos stuffed with succulent long-cooked pork: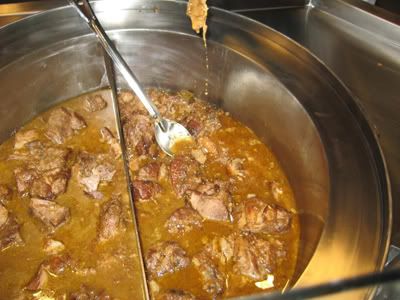 from the Taco Man: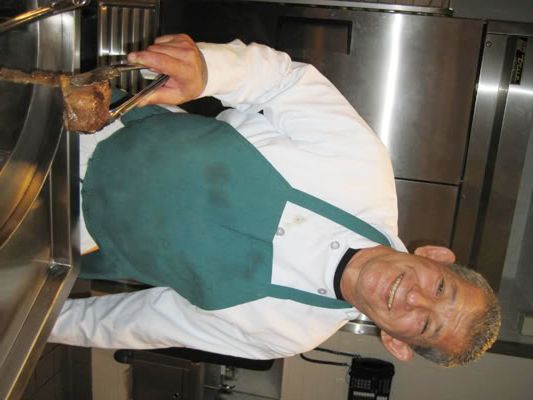 and couscous with vegetables:
as well as Phan's signature fresh shrimp spring rolls: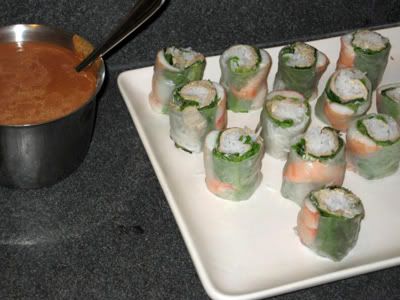 Trays of tiny house-baked tarts: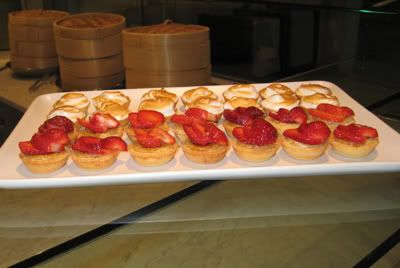 Soups might include Vietnamese chicken, beef noodle, or tortilla; sandwiches, vegetarian or meat paninis and Saigon pork; slow-cooked dishes, curried chicken, Lebanese lamb, grains, and vegetables; "sizzle" means imperial rolls, fish and chips, and freshly-made French fries; the Taco Man offers quesadillas and chips and salsas as well as tacos; "steamed" covers tamales and buns filled with chicken or vegetables. Most everything is under $11.50, in some cases well under - prices start at $3.
Downstairs is the elegant, slightly murky Moss Room, accessible by a steep sculptural staircase in the café during museum hours (museum admission required), or an outside entrance for dinner after museum hours (when you can skate on the admission charge). (The Moss Room won't be open for dinner until October 7.)
The staircase runs alongside a forty-foot-high moss-covered wall, and above a creeklike water feature.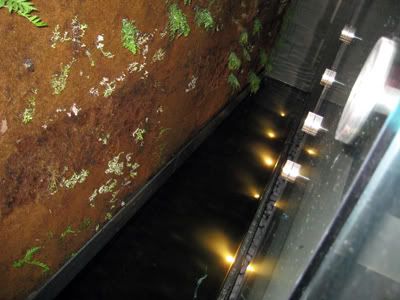 The Moss Room features a fancy amber-lit bar and glassed-in semi-private rooms: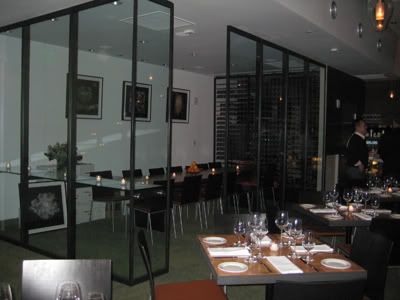 A view into the kitchen: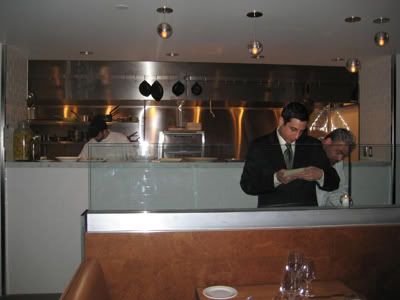 Menu items will be between $8 and $14 for starters, and $18 and $29 for mains. (Plus that pesky $24.95 daytime museum admission charge.)
Our favorite part of the California Academy of Sciences is, big surprise, the undulating roof featuring 1.7 million native plants that include herbs that Keller and Phan can snip for their kitchens.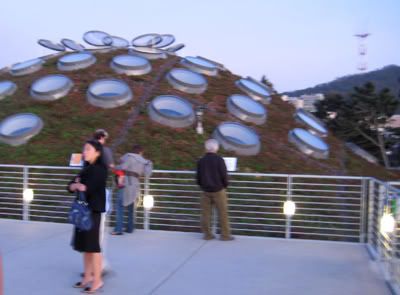 But call us crazy: the Renzo Piano building has its points and it's especially stunning viewed all lit up at night from the outside. But many of the interactive exhibits leave us kinda cold. We prefer the cabinet-of-curiosities feeling we get in more mysterious spaces. Mysteriously indeed, one of them, Paris' Natural History Museum, was pictured in the New York Times's travel section a few days after visiting the California Academy of Sciences, in a useful and fascinating article about Jean-Paul Gaultier's favorite places in Paris.
I liked the rainforest, the dizzying planetarium, the albino alligator. But there's nothing to compare with "the stampede of fossils...about 100 animal skeletons [that] look as if they're about to flatten you" at the "fabulously eery" Galeries de Paleontologie at d'Anatomie Comparee of the Natural History Museum.
Maybe I'm being a cranky, ungrateful Diaghilev: "Astonish me!" I ask of the new Academy. Bits of it do. But I want more for my $500 million dollars.