Eat Like a (Lucky) Berkeley Student!
By Meredith Brody
For years I've been parking on Bowditch Street in Berkeley and hiking a few blocks north to the Pacific Film Archive, passing a intriguing-looking modern glass-walled student cafeteria that I sometimes stopped in to get a quick cup of Peet's. I thought it was called The Den, because that's the sign I saw out front.
I've always loved cafeterias; there even used to be some more-than-decent ones in LA, including Clifton's. My goddaughter Anna was a student at Berkeley, and arts editor at the Daily Cal, a few years ago; she wanted to sneak me in to the student eatery so I could write about the place, but it never happened.
But now, it turns out, civilians can sample the fare at the intriguing glass-walled building, which turns out to be called Crossroads; the Den, which features a Peets coffee stand and pre-made sandwiches and salads, is only a section of it. Crossroads, the website tells us, is the first green-certified building on Cal's campus and the nation's first organic certified kitchen on a college campus.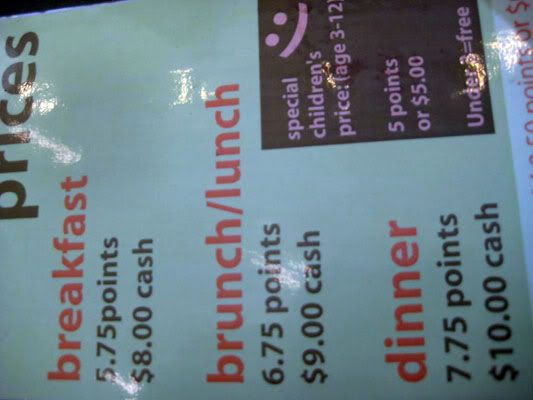 For $8 at breakfast (served Monday through Friday from 7 a.m. to 10 a.m.), $9 at lunch (served Monday through Friday from 11 a.m. to 2 p.m.), $10 at dinner (daily from 5 to 9 p.m.), you can take your pick from nine different food stations, including world cuisine, Mexican, made-to-order deli, 100% organic salad bar, comfort foods, vegetarian/vegan, grilled entrees, and baked goods, with daily-posted menus.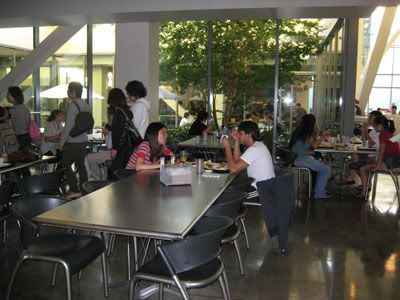 And you're not just going to be offered pizza...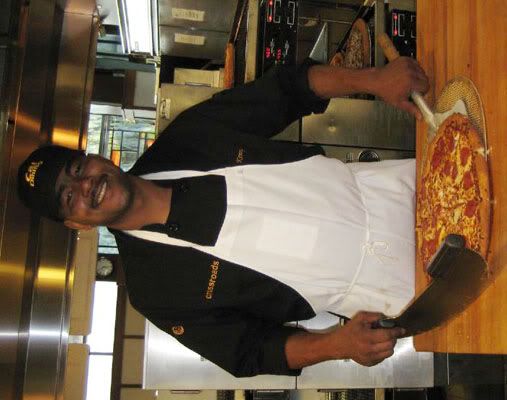 made-to-order deli sandwiches...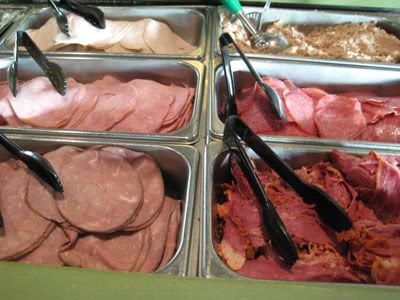 or comfort food...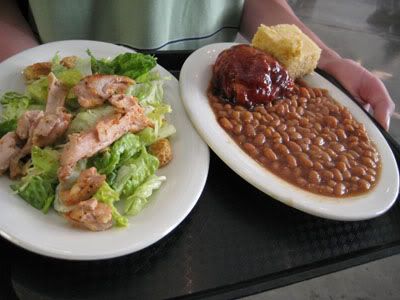 (Student with grilled chicken Caesar salad, barbecued chicken, barbecue beans, and cornbread)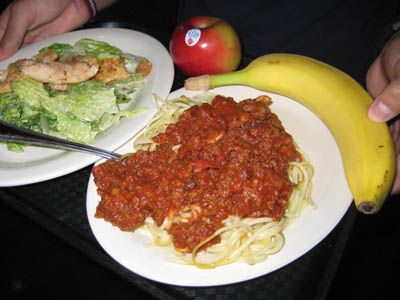 (Another tray, with chicken Caesar salad, spaghetti Bolognese, an apple, and a banana)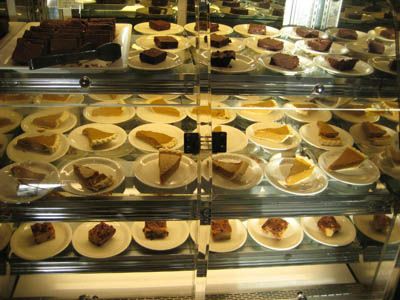 (Baked goods (all organic) at Crossroads)
...but also sophisticated dishes from a celebrated Indian chef, Suvir Saran, with a popular and honored New York restaurant, Devi, and two cookbooks, Indian Home Cooking: A Fresh Introduction to Indian Food, and American Masala: 125 New Classics From My Home Kitchen.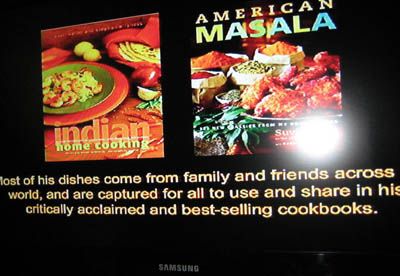 At the American Masala food station, where a monitor shows images from Saran's upstate New York farm, kitchens, and teaching sessions at Napa's Culinary Institute of America,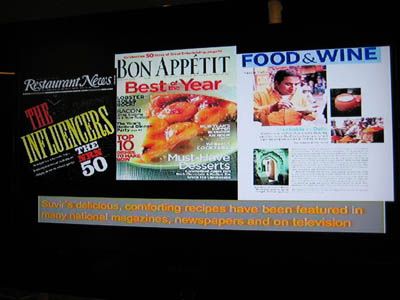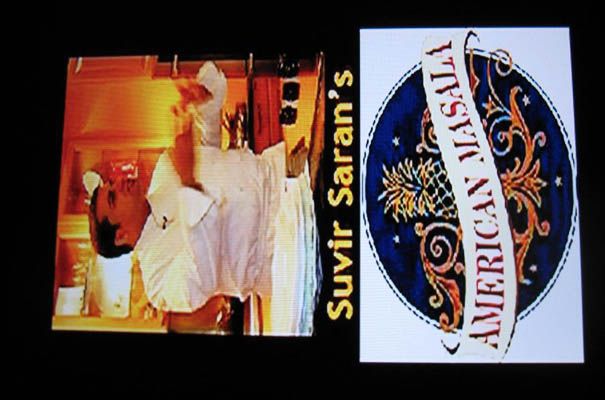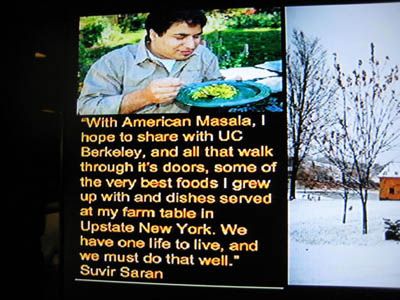 students line up to try such daily-changing dishes as...
a juicy Indian-spiced lamb burger...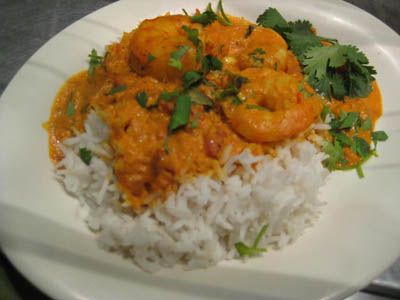 shrimp curry served on rice...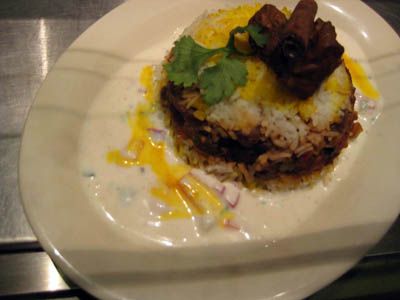 and lamb biryani.
Saran visits Crossroads frequently to teach the staff new recipes. "They now have 140 that they can rotate, which, I tell them, is more than we have at Devi!" On an earlier visit, I tried a lush, fragrant, creamy fresh corn curry, which was not only one of the best things I've ever tasted, but has haunted me ever since.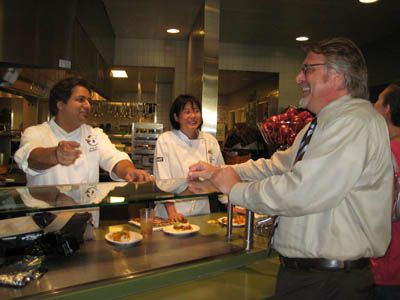 (Crossroads' American Masala chef Suvir Saran, with Ida Shen, Assistant Director and Executive Chef, and Shawn LaPean, Director, Cal Dining)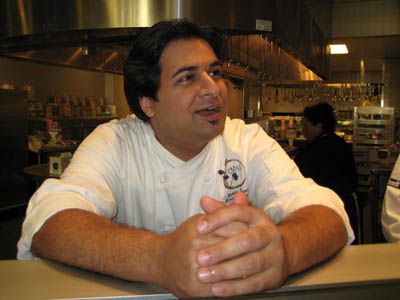 (Chef Suvir Saran)
I'm going to bookmark Crossroads' menu page and stop in again soon - whether or not the corn curry is listed! Crossroads may overtake the Pacific Film Archive as the chief reason to park on Bowditch.